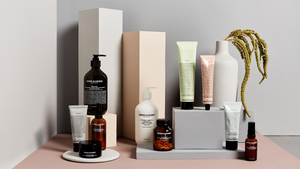 Clinically Proven for Healthier, Beautiful Hair & Skin. 100% Organic.
The Grown Alchemist difference:
Health and beauty are inextricably linked. Optimal skin health is not only achieved with topical skincare, but also by treating the skin from the inside out, with targeted beauty supplements. Grown Alchemist provides the most advanced professional nutricosmetic products, formulated with the purest and highest quality active ingredients supported by scientific research and clinical results. 
Erika's Top Grown Alchemist Pick....
MEET THE FOUNDERS
Keston and Jeremy
As young graduates, brothers Keston and Jeremy came together to collaborate on a project which combined their passion for design and product development. It proved to be so successful that they started an international consultancy, developing products for some of the largest global brands. While conducting testing for one of their clients, the two brothers discovered ground-breaking research that proved the continuous use of natural active ingredients directly improved skin cell health, optimising skin function and consequently reversing the signs of aging.
They went on to launch Grown Alchemist, developing formulas with a unique synergy between biology and cosmetic chemistry, creating "Bio-compatible Beauty" and their trademark skincare system: Cleanse, Detox, Activate. Today their beauty products are recognised as being at the forefront of efficacious anti-aging technology. Their team of cosmetic chemists and research labs based in London, Paris, Switzerland, Spain and Australia are all relentless in the pursuit of perfect formulas capable of transforming the skin from both the outside in, with topical cosmeceutical skincare, and from the inside-out, with their nutricosmetics - the most advanced beauty supplements available globally.